Participation at the XII Congress of Iberian Association of Comparative Endocrinology (held 26-28 September 2019 in Faro, Portugal) was a successful and productive experience for IATS-Nutrigroup students.
Fernando Naya-Català was awarded with a Best Oral Communication prize for his presentation about the gilthead sea bream genome and the adaptation insights derived of the large genome size and the high level of gene duplications observed in this plastic species. This work is available at bioRxiv and will be shortly published in Frontiers in Marine Science.
Regarding posters, Kike Rosell-Moll got a Best Poster prize for his work on the response of the AE-FishBIT biosensor to changes in biotic and abiotic parameters in free-swimming fish in tanks. Congratulations to both.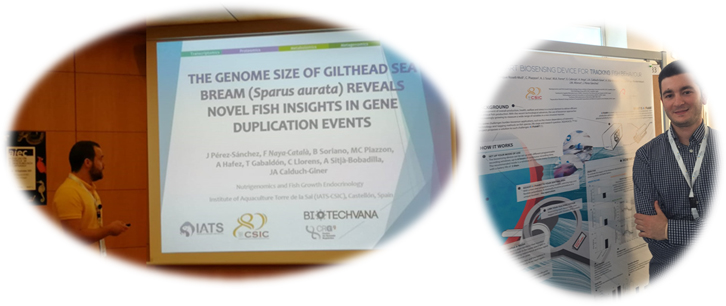 https://iats.csic.es/wp-content/uploads/2021/03/logo-iats-csic-300x66.jpg
0
0
Nutrigenomica
https://iats.csic.es/wp-content/uploads/2021/03/logo-iats-csic-300x66.jpg
Nutrigenomica
2019-10-25 14:18:48
2019-10-25 14:18:48
Successful participation at XII AIEC Congress